My offering to Srila Rtadhavaj Swami on the occassion of his Vyasa Puja:
শ্রী-রূপ-মঞ্জরী-পদ, সেই মোর সম্পদ,
সেই মোর প্রাণ-ধন, সেই মোর আভরণ,
To my beloved Spiritual Masters,

I am drowning in the ocean of material existence. I have to take a moment to let that sink in and remind myself of this harsh reality.
As a child, I didn't have many playmates or friends. As a result, I often imagined or fantasized. Many times, I would daydream about happy moments with my only friend, my imaginary friend. At night I cried myself to sleep and begged the Lord to make my wish come true. "Please, my Sweet Lord, please let me be Your friend. I have no companion except for You. Please be my friend."
As a five or six-year old child, I never imagined that I would one day encounter a rich theology and practice that accepted and encouraged this type of relationship with the Almighty. It certainly seemed strange to my immediate relatives so I kept my yearnings secret and hidden.
Lacking friends, I imagined that the Lord Himself would befriend me, but I knew it was only possible in the hereafter. I imagined that we would play leapfrog, frolic in the grass, climb trees, catch crickets and go for a swim in the creeks. I would never be tired or unhappy as long as I was in the company of my Best Friend. He would be my eternal companion.
Lacking guidance and proper counsel, I prayed, hoped and fantasized about a perfectly wise and benevolent soul to mentor and guide me. I begged the Lord to reveal that person, that perfect sage and ever well-wisher to my material eyes. I hoped that I wouldn't have to wait until the afterlife to meet him.
Some nights, as I knelt before my altar and prayed before an image of the Guardian Angel, I felt or heard a reassuring voice that soothed my heart and alleviated my distress. "You will see me." and "I will meet with you face to face."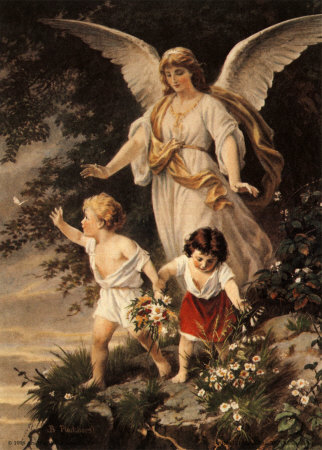 Even in my wildest imaginations I never thought that the entity I simplistically identified as the Guardian Angel or the Holy Spirit would manifest or reveal himself in my lifetime. I was broken and shattered inside for many years and my faith gradually dwindled. What were the chances that, if such a perfected being existed, the Lord would reveal that person to me and grant me the opportunity to associate with him personally?
The Lord works in mysterious ways, they say. In order to shatter my doubts and reestablish my faith, the Lord not only revealed His most confidential servant, the jagat-guru, Srila Prabhupada, He also revealed His confidential pastimes, Names, instructions, and associates to me.
I am now confident that I will one day play with Krishna. It shall one day come to pass. It may take millions of births but I am certain of this truth for only one reason: it is certain because the Lord has revealed to me the many splendorous manifestations of Sri Guru. I have seen them and met them face to face.
And so it happens that I am no longer drowning the ocean of material existence. I am frolicking happily in the forest of Braj hand in hand with Krishna-- it is solely a matter of time.